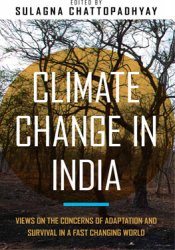 Climate Change In India
ISBN No. 819296330-6 Vol No.
INR 600.00
inclusive of all taxes
Quantity
In stock

The book brings together the emergent climate change concerns of India. It comprises of articles that cover a gamut of topics, ranging from agriculture and forestry to adaptation and science. The compilation is especially useful for students and researchers who are looking for relevant and succinct information on climate change.
Product Details
Publisher:

Iris Publication Pvt. Ltd.

Language:

English

Binding:
Year of Publication:

2014

Edition:

1st Edition

ISBN:

819296330-6

No. of pages:

424